Happy Halloween! Are you big into today's holiday? I do like dressing up, although I don't really have a good reason to when Halloween falls during the week because I'm not going out anywhere and we don't get trick-or-treaters at my apartment building. Kind of sad. I also love scary movies though, so I'm excited to get home tonight and get so creeped out that I can't sleep tonight :) Plus, there's always the candy...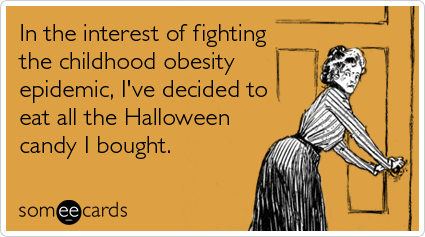 I did dress up over the weekend for a party I went to, which was a Saturday Night Live-themed costume party. I went as
Gilly
and Jason went as motivational speaker
Matt Foley
.
Don't worry, it's a pillow under there.
I also managed to snap some photos of my outfit on the way out the door this morning, but it was still dark out so I had to use the iPhone inside. So awful - it kills me to put up pictures this grainy, but until I can find some daylight hours, that's all I've got. I resized them so I could enlarge them, but they look even worse that big, sadly. I need some more light in my life, you guys! What's your strategy???
I'm Wearing
Halogen (via Nordstrom) brown dress
Brown tights from... ?
Nautica striped cardigan
The Limited leopard belt
Michael Kors gold watch
Chinese Laundry boots
Marc Jacobs owl ring
I obviously didn't theme my outfit to be Halloween-y today, but I did throw in the owl ring for good measure - that's a little but spooky, right?
Also linking up with
The Pleated Poppy
and
Marionberry's Trend of the Month Challenge: Boots
!